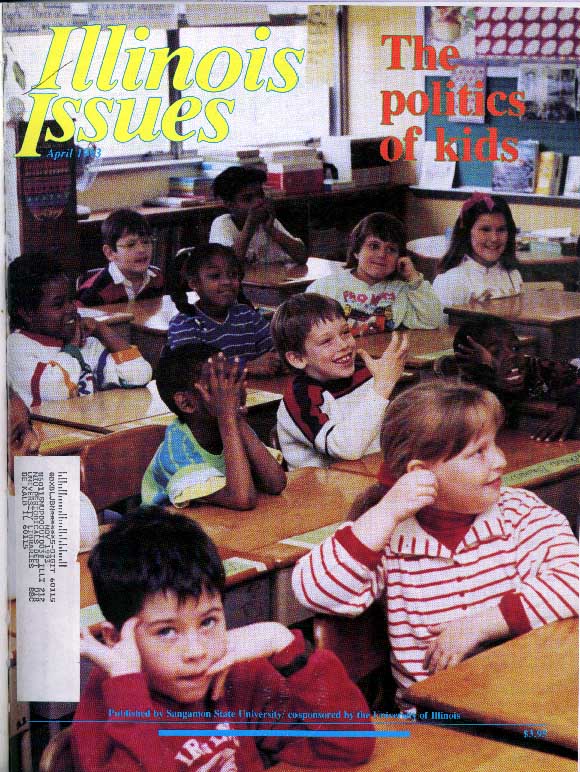 Illinois Issues
April 1994, Letters, Pages 4 & 7
Letter by IL Attorney General Roland Burris, responding to article by Charles N. Wheeler III, on the Rolando Cruz case
Cruz case:

Burris' view as appellate prosecutor
Note: This letter is from the print edition of the excellent Illinois Issues magazine, published at our very own university, here in the state capital; links on this page have been added for reference only... We do not necessarily endorse the content of external web pages.

By ROLAND W. BURRIS
LETTERS

Editor

: In your March 1993 issue, the "Politics" column by Charles N. Wheeler III voiced the writer's dissatisfaction with the Illinois Supreme Court's recent 4 to 3 decision, affirming the conviction and death sentence in

People of the State of Illinois v. Rolando Cruz

. As stated by Mr. Wheeler, Cruz has filed a petition for rehearing in this case and, as of the date of this letter (March 9), that petition has not yet been ruled on by the Supreme Court. I will not attempt to litigate this pending matter outside the courtroom, but I am compelled by Mr. Wheeler's mischaracterizations to clarify the course of these proceedings and my own role as the appellate prosecutor in this case.



Of particular interest to Mr. Wheeler were the claim of another convicted killer, Brian Dugan, that he alone was responsible for the crimes of which Cruz has been convicted and the fact that some evidence of Dugan's claim was not allowed to come before the jury. I would remind you and your readers that the exclusion of particular documents or testimony from a trial is by no means an extraordinary ruling. Mr. Wheeler's status as a "layman" may excuse his casual disregard of the longstanding rules against the use of hearsay evidence in criminal trials. However, the rules of evidence serve an important role in our judicial system, by evaluating the reliability of out-of-court statements before they can be placed before a jury that will neither see the witness nor hear any cross-examination of him under oath. In this case, the Supreme Court found that there was nothing to indicate that Dugan's so-called "confession" was trustworthy. Mr. Wheeler's apparent belief to the contrary, bolstered by selective references to Dugan's statements and omitting discussion of the errors in those statements, is not a sufficient basis for his implicit suggestion that criminal cases should be decided by popular opinion, rather than by time-tested rules of law.

Mr. Wheeler went on to discuss the opinion of unspecified "legal ethics experts" as to my duties as the attorney general of this state and raised the issue of the resignation of a young atttorney on my staff who had been assigned to work on the Cruz appeal. Unfortunately, Mr. Wheeler has offered an incomplete and seriously misleading version of my role and my responsibilities in this case.

Although Mr. Wheeler did not discuss the history of this case, it must be understood that the pending appeal is from Cruz's second trial, which culminated in his second conviction and death sentence. On review of Cruz's first review of conviction, the Supreme Court ruled that Cruz and his co-defendant, Alejandro Hernandez, should have had separate trials. However, the court also rejected the argument that the evidence against Cruz was insufficient to support a jury's verdict. Given that conclusion by the Supreme Court, it must be acknowledged that the decision to prosecute was well within the ethical boundaries of prosecutorial discretion, as regulated by the Illinois Rules of Professional Conduct.

As the result of Cruz's second conviction and death sentence, he again received, under state law, a mandatory review of his case by the state Supreme Court. State law assigned the duty of defending the jury's verdict to me, as the attorney general. That duty does not include the right or the obligation for me to substitute either personal or popular opinion for that trial judge, the jury or the members of the Illinois Supreme Court. To the contrary, I must and did act as an advocate for the People, in whose name a defendant had been duly convicted of murder. I must discharge this duty to defend a jury's verdict unless I find that there exists no reasonable and ethical argument to advance in support of the conviction. I have not made such a finding in this case.

This is not a case in which the prosecutor concealed the existence of potentially exculpatory evidence from defense counsel, as would be a violation of ethical standards. Here, both sides were aware of Dugan's statements and argued their admissibility before the trial judge. Although some individuals who do not share my legal and ethical duties as an advocate for the People urged me to "confess error" in this case, on the basis of Dugan's claims and their exclusion by the trial judge, the brief that I filed in the Supreme Court demonstrated that legitimate arguments could be, and were, advanced to support the trial court's rulings and the jury's verdict. All of the alleged errors identified by defense attorneys were addressed, and they were the subject of a reviewing court to examine, and the majority of the court determined that there was no error or abuse of judicial discretion that required a reversal of this second conviction.

In fact, the court would have made these determinations, even if I had chosen not to fulfill my responsibilities as an advocate, because a "confession of error" is not binding upon a court under the law of this state. (See People v. Martin, 67 Ill. 2d 462, 367 N.E.2d 1329 (1977).)

With regard to Mary Brigid Kenney, the
Original article on the Rolando Cruz case, by Prof. Charlie Wheeler
young lawyer who resigned from my staff last year, it is very clear that she did so on the basis of her personal rejection of the conviction of Rolando Cruz. As I have explained, however, an individual's personal conclusions cannot drive the administration of our criminal justice system. That is not to say that Ms. Kenney's concerns were not taken seriously or that her personal conclusions were not thoroughly considered and evaluated by the senior staff of my office. Our review led to the determination, however, that the jury's verdict could and, therefore, had to be defended in the Illinois Supreme Court.
Roland W. Burris
Illinois Attorney General
Roland Burris served as Attorney General of Illinois from 1991 to 1995.
FAIR USE NOTICE: This magazine letter to the editor, written in 1993 by Illinois Attorney General Roland Burris and published in Illinois Issues magazine (here at our very own university), is provided for non-profit and educational purposes, in accordance with Section 107
of the U.S. Copyright Act
.
Original article on the Rolando Cruz case, by Prof. Charlie Wheeler


SJ-R: Latest news

...


ChiTrib: Latest News

...


Google: Latest news

...





Check the

State Journal-Register

for the latest coverage: Rod Blagojevich, Roland Burris, the State Capitol, New Year's, and more!!